PROFESSIONAL HANDMADE FURNITURE FOR EVERY AESTHETIC TASTE
When you cannot find that comfortable chair or stylish bookcase that you have been longing for in any Bespoke IKEA furniture retail store nearby, you can always rely on a professional to do it for you. we has worked on many custom-tailored projects in the past and will craft each element of your new furniture by intertwining classic design methods with a brand new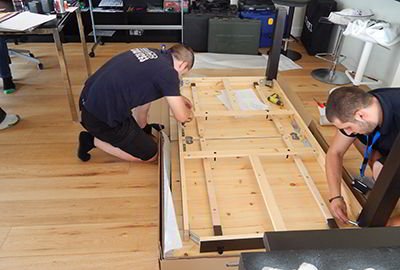 manufacturing approach. In other words, we will not rest until we hear you say "That's exactly what I had in mind!". Hire us for Ikea Furniture Assembly.
THE HANDYMAN WILL TAKE YOUR FURNISHING IDEAS TO THE NEXT LEVEL
The Bespoke, IKEA furniture makers in Dubai have the know-how to work with both freestanding and fitted furniture designs. Just make sure to send us a detailed brief and the pros will readily accept the challenge and interpret it step by step. The team will communicate with you on a regular basis to create a final product that will not only meet your needs, but also respect your budget.
BESPOKE AND IKEA FURNITURE ARE ALWAYS BEST
WHAT TYPES OF CRAFTED FURNITURE DO WE OFFER?
UNIQUE DESIGNS AT A BUDGET-FRIENDLY PRICE
The items that the skilled and precise handymen can craft for your home or office will mainly depend on your current budget and on the aesthetic effect that you wish to achieve. The experts can easily design and assemble any kind of bespoke fitted wardrobes, dining tables and chairs, leather sofas, lounge furniture, kitchen cabinets, TV units, shelves, bookcases, or anything else you need to make your home truly unique.
EVERYTHING WILL GO ACCORDING TO PLAN
The experienced professionals will take their time to carefully study your bespoke leather sofa (or other) design in order to replicate its distinctive features and overall style. All materials will be cherry-picked to ensure the highest build quality possible and to give your piece of furniture a truly unique appearance.
FRIENDLY, RUCKUS-FREE EXPERIENCE
It is easy to imagine your installation session as a screeching choir of jigsaws, smoothing planes, power jointers and drills.
BESPOKE FURNITURE LONDON WILL MEET YOUR DEMANDS
Your custom-tailored furniture can be made from almost any type of material.  No matter if you are going for modern or traditional furniture, the pros will complete your project in a way that complements your home's layout best.
STYLISH & PRACTICAL FURNITURE
Appearance is not the craftsmen's only goal.  The team will ensure that your chairs, sofas, tables, or wardrobes are all comfortable to use and that they will successfully stand the test of time.
ROCK SOLID DESIGN BY BESPOKE FURNITURE MAKERS UAE
Every component of your future handmade bookcases, bespoke TV cabinets, and other furniture will be crafted with diligence and dedication to ensure that it will stand the test of time.
Take into account your individual requirements and your home's current aesthetic design
Keep an eye out for defects and ensure that the final design is well worth your time and money.
GREAT CUSTOMER CARE
Your bespoke IKEA Furniture Assembly project becomes a collaborative effort. The specialists will communicate with you throughout all stages of development.  We provide you with helpful suggestions to ensure that they have every element of your design down pat.
WITHIN A HAND'S REACH
Our service covers all areas within Dubai.