PROFESSIONAL HANDMADE FURNITURE FOR EVERY AESTHETIC TASTE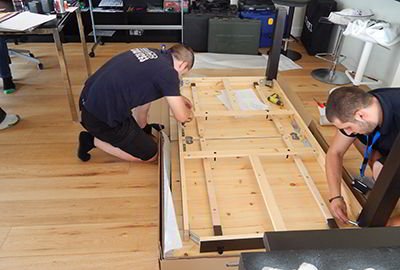 IKEA furniture is popular for a reason: it's stylish, affordable, and versatile. But what if you don't have the time or skills to assemble it yourself? That's where our professional IKEA furniture assembly services come in. We'll put together your IKEA furniture quickly and efficiently, so you can enjoy your new pieces as soon as possible. Plus, we can customize the assembly to fit your specific needs and aesthetic tastes.
THE HANDYMAN WILL TAKE YOUR FURNISHING IDEAS TO THE NEXT LEVEL
Are you looking for a new way to furnish your home? Check out IKEA Furniture Assembly from Urgent Maintenance ! We can take your Ikea furniture and turn it into something truly unique. We specialize in custom-made furniture that is both stylish and functional. Our team of skilled craftsmen will work with you to create the perfect piece for your home. We also offer a wide range of finishes and upholstery options to choose from.
BESPOKE AND IKEA FURNITURE ARE ALWAYS BEST
There's nothing like coming home to a beautifully made piece of furniture. Whether it's a bespoke piece or something from IKEA, the quality and craftsmanship is always evident. When you choose IKEA furniture, you're getting more than just a product – you're getting a piece of art that will last a lifetime. IKEA furniture assembly is simple and straightforward, so you can enjoy your new furniture as soon as possible.
WHAT TYPES OF CRAFTED FURNITURE DO WE OFFER?
UNIQUE DESIGNS AT A BUDGET-FRIENDLY PRICE
If you're looking for unique, handmade furniture at a budget-friendly price, look no further than IKEA Furniture Assembly from Urgent Maintenance. We offer a wide range of furniture styles to suit any taste, and our team of experts can help you choose the perfect piece for your home. Plus, we offer assembly and delivery services to make the process hassle-free. So why wait? Contact us today and let us help you find the perfect piece of furniture for your home.
EVERYTHING WILL GO ACCORDING TO PLAN
When you hire IKEA furniture assembly from Urgent Maintenance, you're hiring a team of professionals who will make sure that everything goes according to plan. We'll work with you to figure out what your vision is and then we'll execute it flawlessly. Plus, we'll be there to answer any questions you have along the way. So sit back, relax, and let us take care of everything.
FRIENDLY, RUCKUS-FREE EXPERIENCE
When you're ready to take the plunge and buy some IKEA furniture, the last thing you want is a stressful experience putting it all together. That's where we come in! Urgent Maintenance IKEA furniture assembly experts will put your new furniture together quickly and efficiently, so you can enjoy your new pieces stress-free. Plus, we're always happy to answer any questions you have about IKEA furniture assembly or any other part of the process. Contact us today to learn more!
BESPOKE FURNITURE LONDON WILL MEET YOUR DEMANDS
If you are looking for furniture that is both stylish and unique, then Bespoke Furniture London is the perfect place for you. We offer a wide range of furniture that is handmade by our skilled craftsmen. Whether you are looking for a new sofa or a dining table, we will have something to suit your taste. Plus, our IKEA furniture assembly service means that you can have your new furniture delivered and assembled in no time at all.
STYLISH & PRACTICAL FURNITURE
IKEA furniture is known for its style and practicality. And, with IKEA furniture assembly in Dubai, you can get the best of both worlds. Our team of professionals will assemble your IKEA furniture according to your specifications, ensuring that it looks great and functions properly. Plus, we'll do it all at a fraction of the cost of hiring a separate contractor. So why not give us a call today and see what we can do for you?
ROCK SOLID DESIGN BY BESPOKE FURNITURE MAKERS UAE
Whether you're going for a rustic, industrial look or something more sleek and modern, IKEA furniture assembly can help you achieve the perfect aesthetic for your home. We pride ourselves on being able to create custom pieces that are not only stylish but also built to last. Our team of experienced professionals will work with you from start to finish to ensure that your vision becomes a reality.
GREAT CUSTOMER CARE
We understand how important it is for our customers to be satisfied with their purchase. That's why we offer a wide range of services to make sure you're getting exactly what you need. We can help with IKEA furniture assembly, delivery, and even installation. Plus, our team is always available to answer any questions you may have. We want you to be happy with your purchase, and we'll do everything we can to make sure that happens.
WITHIN A HAND'S REACH
Our service covers all areas within Dubai.