Shelves Installation Services In Dubai
WE HANG SHELVES UP!
Shelves installation can be a bit tricky, especially if you're not familiar with the process. Here are a few tips to help you get started
Have an idea of where you want your shelves and what height they should be at before installing them.

Make sure that your hardware is rated for the weight of items you plan on hanging from it.

Read instructions thoroughly before beginning installation and use a level to make sure things are aligned properly.

Use wall anchors for thin drywall walls or hollow-core doors, since drywall screws alone may not hold heavy items securely enough.

For long shelves, install from both ends so that it's easier to reach all studs when nailing them into place.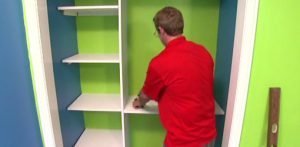 GET THINGS DONE FROM START TO FINISH WITH SHELVES HANGING DUBAI
SHELVES INSTALLATION & HANGING OFFERS MORE THAN MEETS THE EYE
Shelves installation and hanging might seem like a pretty straightforward task but there's actually more to it than meets the eye. Here are a few things to keep in mind when installing shelves in Dubai 
First, measure and then make your cut.

Don't place any heavy objects on your shelves for at least 24 hours after you install them.

Put brackets every eight inches along your shelf so that you can hold multiple shelves with just one bracket each.

Secure all shelves by placing brackets underneath them as well as securing them on top of each other with screwing or bolts, whichever is appropriate for the shelf material being used (wood screws will work for most materials).

It may be easier to do this once the shelves are up and in their final positions so that you don't have to move anything around too much.
But before you get started with the shelves installation process, always remember to use your tape measure. Measure twice and cut once. For those shelves that are shorter than four feet in height, it is usually best to find a stud where they'll go before attaching the brackets onto them.
RECEIVE VALUE FOR YOUR MONEY WITH HANGING UP SHELVES IN DUBAI
In this busy day and age where chores abound, it's difficult to find an extra hour or two for that new kitchen shelf that you bought what would seem like an eternity ago. And you don't have to, because the friendly tradesmen will happily help you cross off many occasional repairs and odd jobs around the house, shelf mounting included. The handymen will carry the right fixings type for hanging up anything from floating, racking, and fixed bracket shelves to adjustable slatted shelving. Make sure to hand a to-do list with all odd jobs over to the pros to get everything done faster. The for help with door fitters, other wall hanging, furniture assembly, fix-ups & more.
THE FITTING PROCESS BEHIND DUBAI SHELF INSTALLATION EXPLAINED
Our shelves installation in Dubai specialize in professional repair and mounting of all shelve types on the market. Each fitter you meet on-site will follow a stringent fitting procedure to ensure that your shelf will easily bear the weight of your books, spices, and plates. The pro will:
Identify your shelf type (floating shelf, etc.) and use the appropriate tools to mount it;
Determine the wall's material and whether it can carry the shelf's weight;
Use sturdy support to securely fit the shelf without leaving wall marks behind;
Clean up leftover debris and use a spirit level to check if the shelf is well aligned.
PUTTING SHELVES UP – A SERVICE THAT FOLLOWS YOUR LEAD
Have lots of shelving ideas that you simply cannot put into practice? Count on the diligent HandymanDXB crew to fit any type of shelves, be it of the corner, kitchen, or floating variety exactly where and when you need them! With our, shelves installation is not just another mundane task on your long to-do list – here, your wish is our command and the professionals will put in extra effort to deliver top-notch results that match your vision. And if you're short on inspiration, the specialists can provide you with fresh ideas that are designed to fit your budget