TV Installation Wall Mount in Dubai
THE EASY WAY TO ENJOY YOUR TV INSTALLATION
No matter where you live in Dubai, Urgent Maintenance can help you with your TV installation. We offer a wide range of services to our clients, and we are always available to answer any questions you may have. Plus, we provide TV installation near me so that you can get the best service possible.
ENJOY THE BENEFITS OF THE URGENT MAINTENANCE TV INSTALLATION SERVICE:
We send a fully insured professional within 2 days of your initial request;
We carefully unpack your unit and help you choose the best location for a Tv wall mount;
Install wall brackets to your chosen position while safely mounting your flat television to the wall;
Tune in your TV and wire any other existing equipment;
Installation of your new home cinema or sound bar system upon request;
Making sure all wires are neatly tucked away;
Tv installation is done then.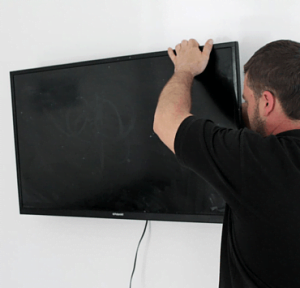 HOW LONG WILL THE TV WALL MOUNTING SERVICE TAKE?
Our team of highly trained and certified technicians will take care of your TV installation quickly and efficiently. The TV installation process will take about 1-2 hours, depending on the size and type of TV. We will also make sure to test the TV and all its functions before we leave.
If you need a TV installation near me, don't hesitate to give us a call. We provide same-day service in most cases and can usually have someone out to your home or office within 24 hours.
ARE MY WALLS SUITABLE FOR WALL MOUNTING A TV?
The answer to this question is both yes and no, as it all depends on the construction of your walls. Our team of experts can take a look at your specific situation and let you know for sure if we can wall mount your TV. We've successfully completed TV installations in Dubai for all types of buildings.
If you're not sure whether or not your walls are suitable for wall mounting a TV, the best thing to do is give us a call.
DO I HAVE TO DO ANYTHING PRIOR TO MY HANDYMAN APPOINTMENT?
TV installation might seem like a daunting task, but with a little help from the professionals, it can be a breeze. Before your handyman arrives, there are a few things you can do to prepare. First, choose the location for your TV. It's important to pick a spot where the TV will be visible from all angles and within reach of outlets. Once you've found the perfect spot, use a level to mark where the screws will go. This will ensure that your TV is mounted straight. Next, gather all the materials you'll need including the mount, screws, and wall anchors. If you have any questions about what you need, be sure to ask your handyman when they arrive.
Handyman note: The mounting process depends on the type of wall, TV model, and the bracket type.
WHERE SHOULD MY TV BE WALL MOUNT?
Before contacting a TV installation service, it's important to measure your space and determine where you want your TV to be wall mounted. Consider the following factors:
How high do you want your TV to be?

How far away from the TV will viewers be sitting?

Is there furniture that will need to be moved out of the way?

What is the angle of the sun in relation to the TV?

Where are the outlets located?
Once you have a general idea of where you want your TV, it's time to find a qualified installer.
I HAVE A PHILIPS TV. CAN YOU MOUNT IT ON MY WALL?
Absolutely! Just say the word and the experts will arrive with the right tools to mount your TV and for TV Installation and safely conceal any stray wires to ensure your hazard-free, thriller-packed evening. Besides Philips, the diligent specialists can also place brackets by any wall bracket manufacturer, namely: Sansom, Omni mount, Duronic, Vogel's, Ultimate mounts, Ross, VonHaus, Peerless, AFV, One for all, Proper, Sandstorm, Lumi, Meos and anything else you can think of!
Please note: We send 2 handymen to efficiently mount 42" screens or bigger.
WHAT TYPES OF TV SETS & HOME CINEMA SYSTEMS CAN YOU INSTALL?
The experienced handymen can safely place, fix, secure, and mount TV & home audio systems of any type and size. The pros will waste no time in setting up your home cinema, neatly mounting your gadgets, Tv installation and tucking all cables faster than you can make a cup of coffee. Here is what the specialists can install to bring the movie theatre to the comfort of your living room:
Plasma, LED, LCD, HDTV, and 3D Television;
Home cinema systems and home theatres;
Home audio systems, sound bars, and much more!