WIRING LIGHT SWITCHES IS NOW MADE EASY WITH THE HELP OF SKILLED ELECTRICIANS
Preparing New Lighting Points Services in Dubai. The number of lighting points installed by us has been constantly increasing. We offer various options for light switches, from the most basic to the most advanced. Our electricians are highly skilled and have years of experience in wiring light switches. We offer a wide range of services, from simple repairs to complete installations. We also offer a variety of financing options, so you can get the service you need without breaking the bank.
FREQUENTLY ASKED QUESTIONS ABOUT WIRING SWITCHES AND LIGHTS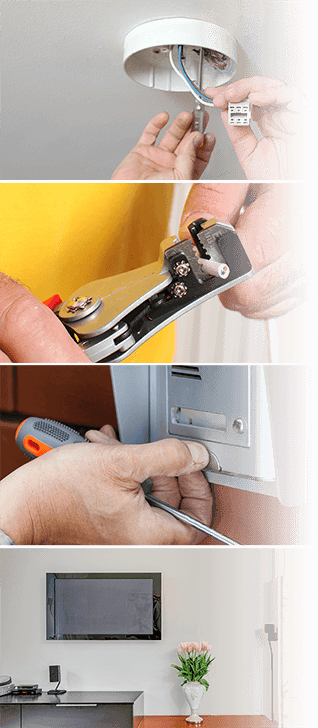 Q: WHAT DOES THE WIRING LIGHT SWITCH SERVICE CONSIST OF?
A: Maintaining the lighting points of a building is important to keep the place illuminated and safe. This type of work is commonly requested by commercial clients, but can also be done in residential properties. The process of wiring a light switch is not complicated, but it is important to follow the correct steps to ensure the safety of those working on the project. Here are the steps that our team takes when preparing new lighting points in Dubai:
We first assess the area to be lit and identify how many lighting points are needed.

We then create a plan that details where each light will be placed.

 The next step is to install the wiring for each light switch.

Then we make sure that there is enough length to reach each point.
 Once all of these tasks are completed, we install light switches at each position and test them to ensure that they're working properly.
Q: WHY SHOULD I CALL AN EXPERT OVER FOR LIGHT SWITCH ELECTRICAL WIRING?
A: If you live in an apartment or villa in Dubai, you are responsible for the maintenance of your own lighting points. While this may seem like a daunting task, it is actually quite simple to do if you know what you are doing. However, if you are not experienced with electrical wiring, it is best to call an expert over to help you. Hire Urgent Maintenance professional's for lighting points service in Dubai
Q: WHAT TYPES OF SWITCHES CAN YOU CHANGE?
A: Some types of switches we change are:
Dimmer switches

Motion sensor switches Timer switches

Three-way switches

Four-way switches 
The first step is to turn off the power to the switch at the breaker box. Once the power is off, remove the old switch and install the new one. Be sure to connect the wires to the correct terminals. Finally, turn on the power and test the new switch.
Q: HOW CAN I REACH OUT TO URGENT MAINTENANCE TO MAKE MY WIRE LIGHT SWITCH APPOINTMENT?
A: If you're in need lighting points service in Dubai no worries because Urgent Maintenance is here to help, there are a few ways to reach out and make an appointment. The first is to give them a call at their customer service number. You can also send them an email or reach out through their social media channels. If you have an emergency, you can also request an appointment online.